Tours to Las Vegas
Bright, drown­ing in lights, Las Vegas is called the city that nev­er sleeps. It is locat­ed far from large indus­tri­al areas, almost in the heart of the desert. This resort attracts tourists from all over the world with its neon lights, expen­sive hotels, casi­nos, par­ties, and night­clubs. Las Vegas ? This is a new-gen­er­a­tion metrop­o­lis. Trips to Vegas are very pop­u­lar with young peo­ple, because here you can get mar­ried with a loved one (the cost of the process is quite ade­quate). Vegas hosts the loud­est stag and hen par­ties, and bright par­ties in pres­ti­gious night­clubs. Rich, famous, influ­en­tial peo­ple come here to enjoy the excite­ment, bright impres­sions, new acquain­tances, prestige.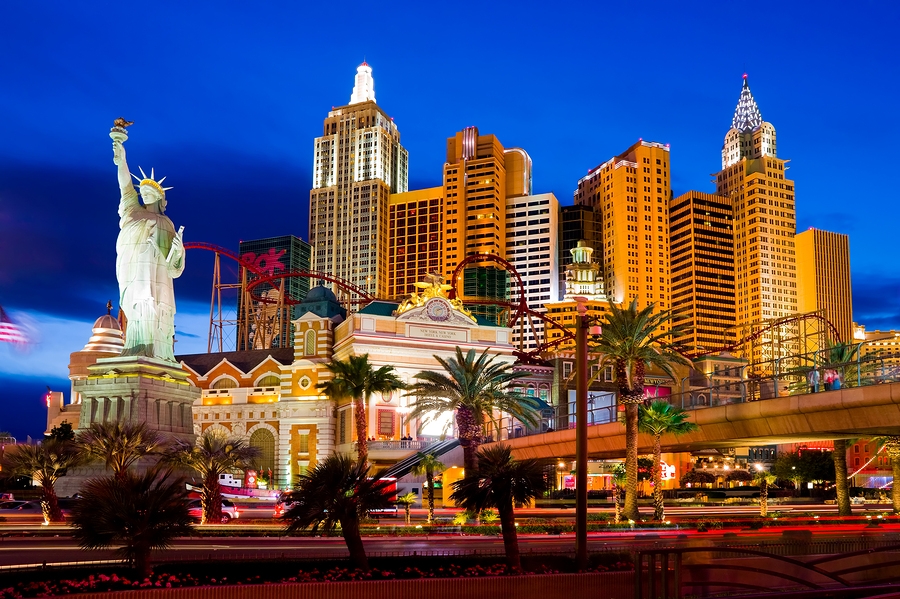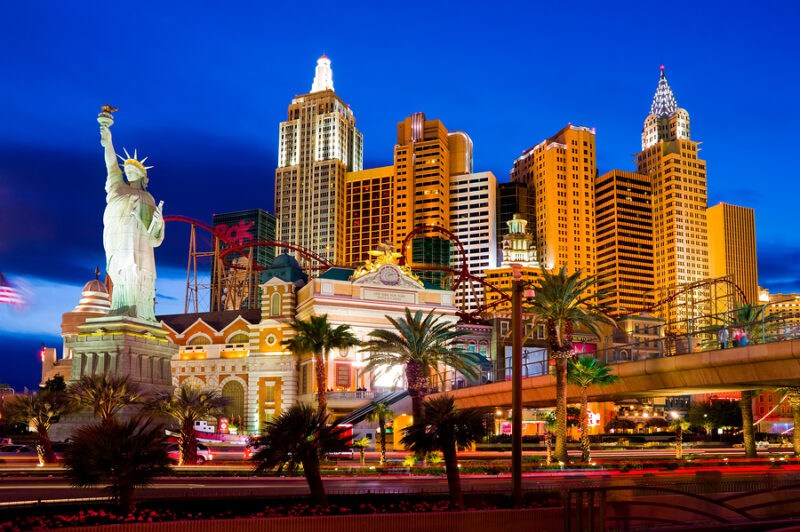 Pre­vi­ous­ly, the so-called "death road" passed through these places, and in 1829 an oasis with arte­sian springs was found, which became the prog­en­i­tor of mod­ern city.
Las Vegas is the largest tourist cen­ter not only in the Unit­ed States, but also around the world. This is a city where night and day are mixed togeth­er, where the rhythm of life does not stop for a minute.
A gold tour in Las Vegas is an oppor­tu­ni­ty to get into the tem­pera­ment and his­to­ry of all of Amer­i­ca. The city's cul­tur­al pro­gram is no less rich than its gam­bling fame.
If you want to go to the world cap­i­tal of excite­ment, lux­u­ry and end­less enter­tain­ment, then we will be hap­py to help you orga­nize an unfor­get­table vaca­tion in this amaz­ing town. Thanks to 20 years of expe­ri­ence in the tourism indus­try, we are able to find an indi­vid­ual approach to each client and imple­ment all the wish­es and pref­er­ences of our cus­tomers. When book­ing tours to Las Vegas with us, you can be sure that we will take care of a com­fort­able flight from Kiev, set­tling in a mag­nif­i­cent, fash­ion­able apart­ment, for any peri­od of time you choose. Also, if desired, we cre­ate indi­vid­ual pro­grams for our clients, book a car rental, and pro­vide infor­ma­tion sup­port. If you want to know the prices for tours to Las Vegas, our man­agers will pro­vide up-to-date information.
What are the attractions of Las Vegas tours?
This city is the gam­bling cap­i­tal of the Unit­ed States of Amer­i­ca. The first thing that attracts the atten­tion of tourists is the use of the lat­est tech­nolo­gies in the design of build­ings, adver­tis­ing, and the envi­ron­ment in gen­er­al. The Cen­tral street is a geo­graph­i­cal atlas. Walk­ing along it, you will feel like vis­it­ing the most famous places in the world. Here you can trace the notes of Venice, New York, Paris, Man­hat­tan, Brook­lyn. The casi­no pavil­ions are dec­o­rat­ed in a vari­ety of styles, rang­ing from ancient Greek to fantasy.
This is a favorite place for pseu­do wed­dings and a wide vari­ety of entertainment.
Tours to Las Vegas are a bright burst of emo­tions, a reset of con­scious­ness, a pow­er­ful charge and a real emo­tion­al high.
Unique places:
On the cen­tral street of Las Vegas, which stretch­es for 7 kilo­me­ters, there is an atmos­phere of end­less dri­ve and fun. It is here that the famous casi­nos and first-class, lux­u­ry hotels are locat­ed. You can vis­it the largest bowl­ing cen­ter, take a ride on a rent­ed heli­copter, spend the whole day in the spa com­plex, while your com­pan­ion tries his luck at the gam­bling table.
Many peo­ple get the impres­sion that in Las Vegas you can only drink, walk and have fun, win and lose large amounts of mon­ey. But, this is not the case. Here you will find unique oppor­tu­ni­ties for mul­ti-faceted enter­tain­ment and pleas­ant leisure.
As part of a tour to Las Vegas, you can vis­it a unique place ? Secret Gar­den. It is home to amaz­ing ani­mals and birds. Trop­i­cal flo­ra and fau­na will amaze you with its beau­ty and ver­sa­til­i­ty. In addi­tion, there is a dol­phi­nar­i­um, where you can enjoy a unique show program.
If you love extreme sports, we rec­om­mend vis­it­ing the famous amuse­ment com­plex­es: Speed Roller Coast­er and Las Vegas Cyber Speedway.
A favorite enter­tain­ment for men is car rac­ing. In the north of the city is the free­way, where every day there are excit­ing races at Las Vegas Motor Speed­way. You can become not only a spec­ta­tor, but also a participant.
In the Amer­i­can resort, you can vis­it many amaz­ing muse­ums. For exam­ple, tourists are delight­ed with the Las Vegas Muse­um, which tells the his­to­ry of the city. The Elvis Pres­ley Muse­um is very pop­u­lar, where his per­son­al belong­ings, records and pho­tographs are col­lect­ed. Vis­it the auto­mo­bile muse­um of the city, you will see the iron hors­es of Nicholas II, Adolf Hitler and the Japan­ese Emper­or Hirohito.
The most expen­sive and pres­ti­gious casi­no in Vegas ? Bel­la­gio. In front of this lux­u­ri­ous build­ing is a grand foun­tain, which demon­strates the incred­i­ble beau­ty of the hydrotech­ni­cal show, with the use of music and lighting.
A trip to Las Vegas ? The plea­sure is not cheap, but the emo­tions that this city gives are worth any fab­u­lous sums.
This is a nice city where a good night's sleep was exchanged for night walks, rustling cards, the screams of slot machines, the clink of play­ing chips and the boom­ing roar of con­vert­ibles. Las Vegas is the cap­i­tal of the game, excite­ment and chic. Town of Vegas – a huge city of many thou­sands in pop­u­la­tion, which is locat­ed in the west­ern Unit­ed States in the state of Neva­da. It has been built over the past cou­ple of decades and has become one of the most pop­u­lar places in Amer­i­ca. This city is vis­it­ed by more than 40 mil­lion peo­ple every year, most of whom book tours to Las Vegas to enjoy the true cul­ture of Amer­i­ca and the uni­form spir­it of excite­ment of this city.
The city of excite­ment, fun, or Sin City. Las Vegas is on every­one's lips for one sim­ple reason–it has become the gam­ing cap­i­tal of the world. The world's first casi­nos and pawn­shops were built here, and they still func­tion today. The most vis­it­ed and famous of which are now «Wynn Las Vegas», «Flamin­go, Mirage», «Bel­la­gio», «Monte Car­lo», they are asso­ci­at­ed with hotels and restau­rants for the real con­ve­nience of guests.
Hun­dreds of brand­ed bou­tiques and large out­lets locat­ed on all the streets of the city and attract the atten­tion of guests with their orig­i­nal­i­ty and nov­el­ty. Sev­er­al times a year, absolute­ly all stores arrange sales and reduce the prices of things by more than 60%. This is not to be missed, espe­cial­ly at Appi­an Way Shops and Cas­tle Walk Shops, which are locat­ed on the glo­ri­ous Boule­vard Strip and Las Vegas Pre­mi­um Out­lets, as well as in the shop­ping cen­ters Man­dalay Place, Crys­tals at City Cen­ter and The Grand Canal Shoppes at The Venet­ian, where you can feel like in Venice.
Great restau­rants and bars. Each restau­rant in the city has its own unique style, cui­sine, refined cook­ing tech­niques and a per­son­al refined chef who cre­ates a new mas­ter­piece dish by dish. This city can not boast of a large vari­ety of restau­rants, bars, cafes, din­ing halls, mafs and eater­ies, because here they are an incred­i­ble number.
Sightseeing Tours
Vaca­tion in here is always accom­pa­nied by bright emo­tions, because here you can see almost all the tra­di­tion­al Amer­i­can enter­tain­ment: from nation­al parks to theme parks, from show­rooms to cin­e­mas. Often, tours to Vegas are accom­pa­nied by excur­sions. The first in the rat­ing of guests of the city is the tour «Grand Adven­tures Tours», which shows many attrac­tions, includ­ing the Grand Canyon and the famous route-66.
It is also often used for scoot­er or bicy­cle tours, such as «Red Rock Scoot­er Tours, Red Elec­tric Bike Tours» or «Amer­i­can Adven­ture Tours».
One of the most pop­u­lar gourmet tours is the «Lip Smack­ing Food­ie Tour», where you can taste the most ele­gant dish­es of all the famous restau­rants in Las Vegas and enjoy the unique treats of famous chefs.
You can also be sur­prised by fly­ing by plane or heli­copter over the Grand Canyon, Zion Nation­al Park, Death Val­ley Nation­al Park and Hoover Dam, as well as the night streets of the city on tours such as «Best Las Vegas Tours LLC» or «Grand Canyon & Beyond».
But the most inter­est­ing is def­i­nite­ly a tour of the most famous casi­no «sin city». This is how you can feel the detached allur­ing atmos­phere of Las Vegas.
Main Attractions
Every­thing in this town rests on the main and most famous street of the city-the «Strip». The most famous night­clubs, casi­nos and hotels are locat­ed here. And the Eif­fel Tow­er in Paris, a repli­ca of New York's Brook­lyn Bridge and the glo­ri­ous Stat­ue of Lib­er­ty can sur­prise you. It is here that the city's «Wel­come to Fab­u­lous Las Vegas sign«is adver­tised. Also on this street, the first casi­no in the city – El Ran­cho Vegas-shines with bright lights. And the very first hotel in the city – «Inter­na­tion­al Hotel».
In the arse­nal of attrac­tions of the city there is a danc­ing foun­tain «Bel­la­gio», which pleas­es guests day and night with its beau­ty. So is the great Dig This theme park, which is unfor­tu­nate­ly only avail­able for adults. Here you can dri­ve any cars and even dig a hole of sand with a bulldozer.
And of course, a vaca­tion in Vegas is asso­ci­at­ed with the famous West­ern film, which is com­ple­ment­ed by the famous nation­al parks, such as the» Grand Canyon «and the well-known» Death Val­ley», which is famous for its pass­es and cen­turies-old history.
Every­one has long dubbed a vaca­tion in Las Vegas a lit­tle crazy act that should hap­pen in every per­son­'s life. Las Vegas is a city of pas­sion. Every­thing is here. And it's not for noth­ing that the main rule here is » Every­thing that hap­pens in Vegas stays in Vegas.»